Dec 2019 Newsletter Pt1
13th December 2019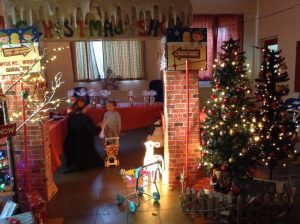 Dear parents,
Just a quick reminder about forthcoming events at this busy time of the year and a few 'thank yous.' Thank you to Heather & her fellow elves for the fabulous Christmas shop: the children loved shopping for the presents. Thank you to everyone who helped raise £54 for 'Children in Need.' Thank you to everyone who has donated food for the children's snack time. In the words of Dr Seuss, "Thank you. Thank you. Sam-I Am."
Wendy Perkins (Manager)
Dates for your diary
Sat 7th Dec – Breakfast with Santa – just  a few places left so please see a member of staff asap to book your child's/children's place(s).
Tues 10th Dec – Xmas Play (am children) but afternoon children are encouraged to attend & watch, as long as they are accompanied by parents/carers. Please bring children in for usual start time of 9.15. The staff will dress the children on this day: parents/carers should not stay to dress their child as other children will be getting changed, for the same reason please do not take any photos of your child in the main hall/pre-school room as you drop them off. The play will start when they are ready at around 9.45 & finish when it finishes (around 11.15) – biscuit or cake donations needed please on the day to sell as refreshments during interval & raffle tickets (for some fabulous prizes) will be on sale too. Parents/carers may take take photographs &/or videos in the church of the performance but should remember that these are for private retention and use only and are not to be sold or published in any manner by putting them on the web/internet (including use on personal and social websites such as Facebook). Photos taken of the children in their costumes will be available to purchase on the day of the play. Please also collect any 'school' photos ordered & your child's Xmas makes
NB there will be no lunch club & there will be no afternoon session on this day
Thurs 12th Dec – 9.15 to 11.30 – Xmas party (for all morning & afternoon children) – & end of term. NB the Church will be open to the public as a Polling Station but having carried out a risk assessment, it  has been decided to proceed with the party. Please be extra vigilant of cars coming in & out of the car park.
Fri 13th Dec – pre-school closed. Staff only.
Mon 6th Jan 2020– Spring term begins – pm children only
Tues 7th Jan – am children return.
Last month: we heard about Arthur B's exciting trip to the Postal Museum in London, with photos of him dressed as a postie – it's fantastic to see & hear the children sharing their news & adventures with everyone, so please tell us about your child's 'Wow!' moment, such as a trip to a museum or a family birthday: we played a wonderful game with Arthur O'M & his mum when she came in on the Parent Rota; we made Christmas cakes: defied gravity as we turned a glass full of water upside down: played parachute games & rehearsed our Xmas play.
Xmas cards
There is a red letterbox in the main hall for the children to post their Christmas cards to one another. The cards will be handed out after the party on the last day of term, Thurs 13th Dec. Please bring with you a carrier bag to take these home together with all the Xmas makes the children have already made & will be making.
Bad Weather – Policy on Pre-School opening
In the event of adverse weather, the pre-school will endeavour to remain open during normal pre-school hours.
However, it will be left to the discretion of parents to decide if it is safe for them to make the journey into pre-school or not.
If it is necessary to close the pre-school, for health and safety reasons, a message will be posted on www.kentschoolclosures.co.uk from approximately 7am letting you know if the pre-school is closed. Additionally you can: check on our website www.stlukespre-school.co.uk check www.bbc.co.uk/radiokent (listen on 96.7 & 104.2FM) or www.heart.co.uk/kent (listen on 103.1 & 104.2FM); telephone the pre-school on 01634 819809 (Mrs Perkins will try to update the pre-school's telephone message if she can safely make it to pre-school); check on Facebook. If the weather becomes adverse during the pre-school day, parents may contact the pre-school for further information or may decide to pick up their children early for safety reasons. If the pre-school has to close early, you will be telephoned.
Water bottles
As part of our Healthy Eating ethos we sell water bottles for the children printed with the St. Luke's teddy logo. These cost just £1.50 each. All bottles are marked with the child's name & children are encouraged to take a drink at any time. Bottles are refilled when running low. The bottles need to be collected at the end of each session, washed at home & returned to pre-school at the beginning of the next session. Lastly, a reminder that the bottles should be filled with water only please (no squash).
Christmas shopping with Easyfundraising
Fundraise whilst you shop online for your Xmas presents. NO COST, NO CATCH. RAISE FREE DONATIONS FOR US EVERY TIME YOU SHOP ONLINE @ easyfundraising.org.uk/causes/stlukesrochester/
Collect free donations for us every time you buy something online.
Join
It's easy to get started.
Shop
From travel to toasters, every time you shop, do it the easyfundraising way.
Collect
Help out when you check out – it doesn't cost you a penny extra. You can make a big difference on everything from groceries to getaways. For example, get up to half price off in the Debenhams Autumn sale and raise up to a 3% donation when you do so … raise a donation of 2.5% when you shop with John Lewis & Partners. THANK YOU.
Keep in touch
tel: 01634 819809
email :office@stlukespre-school.co.uk
Website www.stlukespre-school.co.uk – The 'Calendar' feature is now activated; it has the 'Dates for your diary' & if you click on the event date, all the details (when, where & what) about the event.