Newsletter February 2020
8th March 2020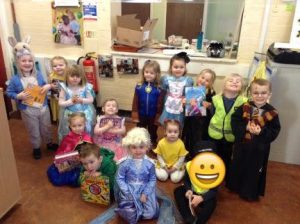 Dear parents, What a busy month we've had!. We celebrated the NSPCC's Number Day (raising £25) and World Book Day: the children wore some fabulous costumes and brought in and shared their favourite books, and to continue to encourage our love of books, we have decided to keep the mini library permanently on the counter in the hall, so you can swap books any time you like.
Our beans continue to grow and Mrs Fuller continues ageing ( 30-40 years young).
Heather and her fellow committee members continue to excel themselves. The Valentine's Day treats raised £34.80 and the Mother's Day Tea morning is still to come: have you got your invite and have you replied? There's a chance to win some fabulous prizes.Thank you for your continued support.
Thank you to Miss Hill's and Mrs Hill's (sometimes) better halves for repairing our garden roof. Not that the wind and rain stopped the children from playing outside!
Below, some dates for your diary and some advice from the government's website on stopping coronviruses spreading, in line with which: please encourage your child to carry a tissue or teach them to catch their coughs and sneezes in their upper sleeve and not their hands; and before entering the main hall/playroom, please wash your child's hands in the wash basins in the toilets or use the hand wipes on the hallway counter.
Wendy Perkins (Manager)
Dates for your diary
Mon 9th Mar – Sport Relief Big Fun Run – see details below.
Mon 23rd Mar & Thurs 26th Mar – Mother's Day Event
Tues 24th Mar – Spring Play dress rehearsal
Mon 30th Mar & Wed 1st April – Easter Egg Hunt – more details to follow
Tues 31st Mar – Spring Play
Fri 3rd Apr – term ends
Mon 23rd Apr – Summer term begins – pm session only
Tues 24th Apr – am sessions resume
Sun 24th May – Dragon Boat Race
Phonics & 'show-and-tell' Fridays: – The children are invited to bring in something (toy, book, photo, object …) beginning with that week's letter/phonic. This month's phonics are:
Weeks Commencing
9th &16th Mar – 'M'
23rd &30th Mar – 'N'
Sport Relief – 'Pennies & pounds.'
Official wristbands are on sale now!
PENNIES WANTED – All children (morning & afternoon) are invited to start collecting, & bring in on or by Friday 16th March, 1p, 2p & 5p coins: the forgotten small change weighing down your purses or pockets. We raised over £50 in just 1 pennies a couple of years ago! There is a collection bucket on the counter.
UNWANTED POUNDS – Sport Relief Big Fun Run. Help shed some pounds with a morning run. THE MORNING SESSION ON MON 9th MARCH WILL START AT Friston Way Park AND NOT AT THE PRE-SCHOOL for a couple of laps (walk, run, crawl … in fancy dress if you want) around the park.
All parents/carers are welcome & everyone is encouraged to meet at the park by 9:30. The staff will be there to meet you from 9:15. Drinks & snacks for the children will be supplied. We will be there about 30 – 45 minutes, then the staff will return to pre-school with the children (those that normally attend Monday am sessions) where the pre-school day will continue as normal. Please ensure the children are suitably dressed for the walk back & please ensure you bring their lunch boxes with you to the park: these will be brought back to school by the staff. Sponsor forms are available: get your loved ones to sponsor you &/or your child for the Fun Run.
Any afternoon children attending the Fun Run must be accompanied by a parent/carer & after the Fun Run will return home to rest before coming to pre-school as usual for their afternoon session.
If it rains, we will get wet!
How can you stop coronaviruses spreading? 
IF YOU NEED TO COUGH OR SNEEZE
CATCH IT Germs spread easily. Always carry tissues and use them to catch your cough or sneeze.
BIN IT Germs can live for several hours on tissues. Dispose of your tissue as soon as possible.
KILL IT Hands can transfer germs to every surface you touch. Clean your hands as soon as you can with soap and water or hand sanitiser.
YOU SHOULD WASH HANDS WITH SOAP AND WATER OR HAND SANITISER : after breaks & sport activities; before cooking & eating; on arrival at any pre-school or any childcare or educational setting; after using the toilet; and before leaving home.
Try not to touch your eyes, nose, and mouth with unwashed hands.
Do not share items that come into contact with your mouth such as cups & bottles.
If unwell do not share items such as bedding, dishes, pencils & towels.
Shopping with Easyfundraising
Fundraise whilst you shop online. NO COST, NO CATCH. RAISE FREE DONATIONS FOR US EVERY TIME YOU SHOP ONLINE @ easyfundraising.org.uk/causes/stlukesrochester/ 
Collect free donations for us every time you buy something online.
Join
It's easy to get started.
Shop
From travel to toasters, every time you shop, do it the easyfundraising way.
Collect
Help out when you check out – it doesn't cost you a penny extra. You can make a big difference on everything from groceries to getaways. For example, get up to half price off in the Debenhams Autumn sale and raise up to a 3% donation when you do so … raise a donation of 2.5% when you shop with John Lewis & Partners. THANK YOU.
Keep in touch
tel: 01634 819809
email :office@stlukespre-school.co.uk
Website www.stlukespre-school.co.uk – The 'Calendar' feature is now activated; it has the 'Dates for your diary' & if you click on the event date, all the details (when, where & what) about the event