Newsletter April 2021
12th April 2021
Dear parents,
Summer term! The year has certainly flown by. Some dates for your diary (please note the closure on 6th May), a few 'thank yous,' reminders about lunchbox rules, the importance of reading and sport and how you can further support the pre-school when you shop with Amazon.
Thank you to Amy & her fellow committee members/helpers like Kelly, for organising the Easter Raffle. Thank you to everyone who helped raise £101 for Red Nose Day.  Thank you to everyone who sponsored their child(ren), bought raffle tickets, donated raffle prizes and/or donated food for the children's snack time. In these difficult and unusual times, your support is very much appreciated and absolutely all proceeds go toward enhancing the children's learning such as buying the interactive light table and tuff trays.
I wish I was a messenger and all the news was good, but whilst we look forward to welcoming the children back next Monday afternoon (morning sessions resume Tuesday), please do remember to socially distance and wear a mask at drop-off and collection times.
Lastly, can I emphasise once more our gratitude for all of your parental support over the last few months. We have received lots of positive feedback and well-wishes and I cannot overemphasise how much this has been valued by staff. Knowing that you are urging us on and wishing us well means such a great deal.
Kind regards,
Wendy Perkins (Manager)
Dates for your diary
Mon 19 April – Summer term begins with pm session only: no am session and no lunch club; only those who attend Monday pms.
Tues 20 April – am sessions (and lunch club) resume
Mon 3 May –  Bank holiday – pre-school closed
Thurs 6 May – pre-school closed as church centre being used as polling station for election of Police and Crime Commissioner
Mon 31 May – Fri 4 June – half-term break
Mon 7th June – Pre-school re-opens
June – Sports Day – date tbc – am children
Thurs 15 July – Teddy Bear's Picnic and end of term.
Fri 16 July – stock take – staff only
Last month
We danced! We danced a lot to all types of music. We celebrated World Book Day (dressing up and reading our favourite books) and talked about special people in our lives as part of Comic Relief. We explored London (with Charlie and Lola) and the stars (we looked through a telescope) and made Mother's Day vases and flowers. We played with coloured rice and coloured water (exploring texture, making patterns, learning about quantity); read, coloured, drew, made lunch in the kitchen and had lots, & lots of fun! Oh, and we performed our Easter play, 'All Afloat Noah's Boat': we sang, 'Who built the ark? No one. No one' and stayed in character by baaing along to all the songs!
Parent Consultations
If you have any concerns about your child or wish to discuss their progress, please speak to the member of staff at the door or contact us by email or phone, to arrange an appointment with your child's key worker.
Lunchbox rules (based on advice from the HSE)
Foods to never give your child -Never give a child under the age of 5:
nuts (including peanuts)
marshmallows
popcorn
chewing gum
boiled and hard sweets
These can choke your child.
Foods you need to prepare safely – grapes, olives. cherry tomatoes  and other similar-sized food can choke your child – please ensure they are cut in half lengthways; food skins are difficult to chew and can completely seal children's airways, so please remove or peel skins and cut lengthways into small pieces no bigger than your child's small fingernail cocktail sausages, apples, tomatoes and (finely chop) lettuce.
Please no products containing nuts (INCLUDING NUTELLA, NAKD BARS, ETC) due to allergies: although your child may not be affected by nuts, some of those that they interact with may be.
To be healthy it's very important to eat a balanced diet: more details & some ideas about what to put in your child's lunchbox @ www.nhs.uk/change4life website. " TOO MUCH SALT CAN PUT OUR KIDS AT RISK OF HIGH BLOOD PRESSURE & HEART DISEASE LATER IN LIFE." ONE 25g PEPERAMI STICK CONTAINS ONE THIRD OF THE MAXIMUM DAILY AMOUNT OF SALT FOR A 4-6 YEAR OLD! Join Change4Life to order your Change 4Life snack pack, with money-off vouchers for healthier snacks & stickers for your snack smart kids. Millions of families have already made healthier changes — you can, too!
Water bottles
As part of our Healthy Eating ethos we sell water bottles for the children printed with the St. Luke's teddy logo. These cost just £1.50 each. All bottles are marked with the child's name & children are encouraged to take a drink at any time. Bottles are refilled when running low. The bottles need to be collected at the end of each session, washed at home & returned to pre-school at the beginning of the next session. Lastly, a reminder that the bottles should be filled with water only please (no squash).
The importance of reading
With the recent 'World Book Day,' a reminder that your child is not too young to learn to read & how you can set them off in the right direction. Make sure that your child is familiar with language & books so that they can see how enjoyable reading is. Some of the things you can do include:
Reading aloud to your child, talking about the words and pictures, & sharing ideas about the book
Reading yourself: Children who see adults reading, & enjoying reading, are much more likely to want to read themselves
Making sure your child is surrounded by books: You don't need hundreds of books at home, but make regular trips to the library or bookshop, not just to borrow books but to spend time together browsing & learning to make choices. In this way, reading becomes a habit.
Most importantly, talk to your child. Spend time with them, doing simple activities (cooking, making something, building a model). As you talk about what you're doing, you are helping them to learn new words. Later, when they see words written down, they have already heard them & know what they mean.
The importance of sport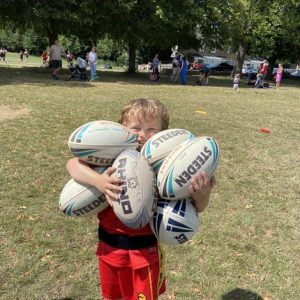 7 reasons your child must play Rugby League at Medway Dragons with Mr B, Tuesdays at 6pm and/or on Saturdays from 10, on the Great Lines, Gillingham –
Your child needs to move – for his/her physical development (muscles, control and coordination …), mental development (confidence, understanding instructions, concentration …), and future health and wellbeing. For the thrill, for the buzz, for the way it makes his/her body feel.
Your child needs good role models in his/her life – The role models sports clubs provide can be an absolute godsend. Whether your child's dad is away a lot of the time and they love and need those strong, firm but fair coaches they see twice a week, or whether your child just needs to be reminded about how to manage their behaviour.
Your child needs to lose – Disappointment at a try being denied, a tackle missed, a match lost … it will happen. Your child will get over it, learn to manage his/her feelings and be bigger and stronger.
Your child needs to win – There are rewards for Player of the Day, individual end of season awards and team trophies to be won at festivals … It's bonding and it feels good.
Your child needs to be part of a team – Together Everyone Achieves More. Children play co-operatively, take turns with others, take account of one another's ideas and needs and form positive relationships with adults and other children. Their teammates are there to help, forgive their mistakes and share in their successes too.
Your child needs your rapt attention – It fills your child's soul up to see mum and dad staring hard, taking their photo, following each thundering, speedy footstep. It proves you love them more than you love your phone!
Your child needs community, and so do you – Medway Dragons' maxim? Bringing people in our community together and enriching their lives through rugby league. So much work and love by so many volunteers is poured into such a community club, and really all for the sake of the children. It's a very pure goodwill that we see and feel, week in and week out.
Quick reminders
Lost property – Please take the opportunity, over the remaining break, to check that all your child's items brought in to pre-school (lunchbox, bag, coat & plimsolls) are clearly named. We seem to have a growing number of lost-property items which are unlabelled and therefore cannot be returned to their owners. Thank you for your cooperation in this.
Breakfast Club – encouraging healthy eating, supporting social development – from Sept 2021  – expressions of interest wanted … please ask the member of staff at the door or contact us if you wish your child to join.
AmazonSmile
For those of you who shop online with Amazon, please consider using AmazonSmile www.smile.amazon.co.uk to help us raise funds for your pre-school.
This site is run by amazon, works identically to it and has all of the same products. The only difference is that if you shop on the amazon smile site, 0.5% of the value of the purchase is made as a donation to your chosen charity.
We have recently registered St Lukes Pre-school Rochester with AmazonSmile. The first time that you log in to this (with the same details as your main amazon account) you will be asked to identify the charity you want to support: select  St Lukes Pre-school Rochester Please or use the link below to log on.
All funds raised will go towards providing new equipment and activities to enhance the children's learning.
https://smile.amazon.co.uk/gp/chpf/homepage/ref=smi_chpf_redirect/260-8941143-8399965?ie=UTF8&ein=1102167-0&ref_=smi_ext_ch_1102167-0_cl
Thank you once again for your support.
Bad Weather – Policy on Pre-School opening
In the event of adverse weather, the pre-school will endeavour to remain open during normal pre-school hours.
However, it will be left to the discretion of parents to decide if it is safe for them to make the journey into pre-school or not.
If it is necessary to close the pre-school, for health and safety reasons, a message will be posted on our website www.stlukespre-school.co.uk  and Facebook page and telephone (01634 819809) – Mrs Perkins will try to update the pre-school's telephone message if she can safely make it to pre-school. If the weather becomes adverse during the pre-school day, parents may contact the pre-school for further information or may decide to pick up their children early for safety reasons. If the pre-school has to close early, you will be telephoned.
Keep in touch
tel: 01634 819809
email: office@stlukespre-school.co.uk
Website www.stlukespre-school.co.uk – The 'Calendar' feature is now activated; it has the 'Dates for your diary' & if you click on the event date, all the details (when, where & what) about the event.